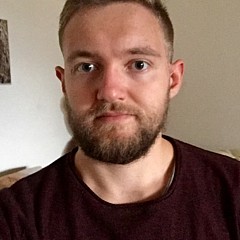 Christian Eberli Art Shop
Shop for wall art, home decor, apparel, and more featuring artwork from Christian Eberli.
Christian Eberli plays, paints, writes and photographs. He also works openly on graphic design projects and publishes reviews as a cultural journalist. Owls are his favorite animals in our fascinating fauna. Kings symbolize his addiction to stories. He thinks in thirds and not octaves, and if not, he lets himself be carried from the hare to the sea to bathe his feet. As a child, Christian Eberli wanted to be a hairdresser and in theory, he could still become one. He lives and works in Central Switzerland.Find him on Instagram:...
more